Mitt Romney is on his way to London, and aides told the UK paper Telegraph that Mitt will have better ties with Britain as President because he's a white guy: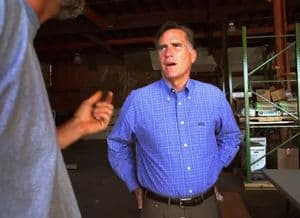 In remarks that may prompt accusations of racial insensitivity, one suggested that Mr Romney was better placed to understand the depth of ties between the two countries than Mr Obama, whose father was from Africa.
"We are part of an Anglo-Saxon heritage, and he feels that the special relationship is special," the adviser said of Mr Romney, adding: "The White House didn't fully appreciate the shared history we have".
Mr Romney on Wednesday embarks on an overseas tour of Britain, Israel and Poland designed to quash claims by Mr Obama's team that he is a "novice" in foreign affairs. It comes four years after Mr Obama's own landmark foreign tour, which attracted thousands of supporters.
They also told the Telegraph that Obama is "comfortable with American decline":
"In contrast to President Obama, whose first instinct is to reach out to America's adversaries, the Governor's first impulse is to consult and co-ordinate and to move closer to our friends and allies overseas so they can rely on American constancy and strength," one told the Telegraph.
"Obama is a Left-winger," said another. "He doesn't value the Nato alliance as much, he's very comfortable with American decline and the traditional alliances don't mean as much to him. He wouldn't like singing 'Land of Hope and Glory'."
The two advisers said Mr Romney would seek to reinstate the Churchill bust displayed in the Oval Office by George W. Bush but returned to British diplomats by Mr Obama when he took office in 2009.