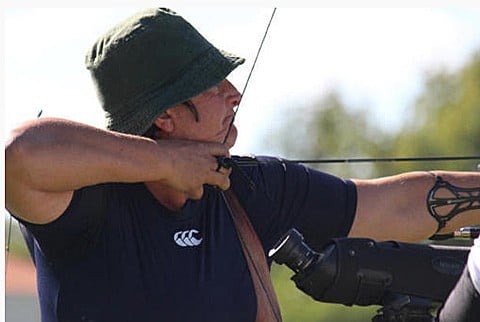 Outsports' Cyd Zeigler, writing for SB Nation, gets the first public statement from Karen Hultzer, a South African Archer who was identified as a lesbian by her partner Tracy Saunders, to South African LGBT site Mamba Online.
Hultzer was kind enough to reach back out to us today after realizing the cat was out of the bag. She told us to "go wild." She also gave Outsports her first public statement about her sexual orientation:
"I am an archer, middle aged and a lesbian. I am also cranky before my first cup of coffee. None of these aspects define who I am, they are simply part of me. I am fortunate that my sexual identity is not an issue, and I don't suffer the level of discrimination and violence that black lesbians in South Africa do. I look forward to the day when this is a non-issue and as relevant as my eye color or favorite sushi."
Hultzer now increases the number of out Olympians to 22. She is only the second South African Summer Olympian to come out, following beach volleyballer Leigh-Ann Naidoo in 2004. She is the first archer to do so.