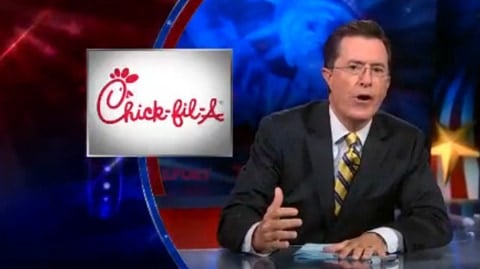 The Chick-fil-A controversy is proving to be a delicious topic for Stephen Colbert, who comments on fake Facebooker and Chick-fil-A defender Abby Farle, whose recently-created profile was created using a stock photo:
"So, that's just Chick-fil-A standing up for a different minority. Our proud Stock Photo Americans."
Colbert also goes after Santorum, who tweeted from inside a Chick-fil-A restaurant this week:
"That's right, folks. If you like Santorum, you'll love Chick-fil-A sauce, it's a frothy mix of sweet and spicy."
Watch, AFTER THE JUMP…