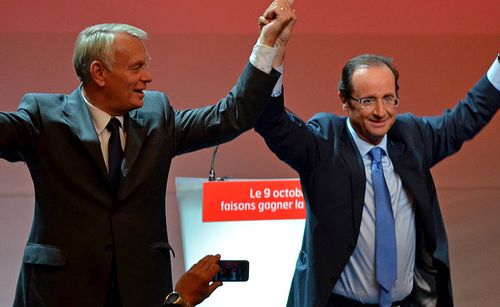 In an address on Saturday to fellow members of his Socialist Party, French Prime Minister Jean-Marc Ayrault said: 
In October, we will send a bill to the National Assembly and the Senate to allow same-sex couples to marry. It would also allow them to form families and adopt children.
In so stating, Prime Minister Ayrault keeps a promise made by President Francois Hollande, who's stumped for full marriage equality since his run against Nicholas Sarkozy. (Sarkozy never did support full equality, even when trying to woo back the gays he'd lost to Hollande.) And he's keeping that promise ahead of schedule: Marriage, said Hollande during the campaign, would be a priority of his government in 2013.
With the Socialist president and Socialist prime minister in agreement, a bill legislating marriage equality will pass to the National Assembly and the Senate. The former's controlled by the Socialists. The latter has a left-wing majority. Paris is about to get a lot more romantic.