Playboy's Chip Rowe's excellent interview with Richard Dawkins.

 In California, kids will soon be protected from "reparative therapy" — but aren't their parents churches often just as dangerous?

 For legal purposes, Arizonians may be pregnant up to two weeks before conception. 

 Lynyrd Skynyrd bails on RNC.

 The best bit of political writing last week came from Gawker, and included these lovely lines:
It's a pernicious bit of false piety in America to assume that wealth confers goodness and goodness wealth; that the two evidence an indivisible value to anything other than profit. Asking how Romney became wealthy and how he manages wealth transgresses nothing. It is not an unreasonable intrusion or a heretical line of inquiry. There is not and will never be a minimum number of zeroes to your net worth that confers either absolution or immunity.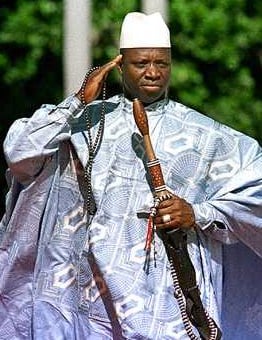 Last week, the nutso Gambian President Yahya Jammeh, who claims to cure AIDS with magic and wants to chop off gay people's heads, pledged to execute all his country's death row inmates before September.

 It seems nine death row inmates have been executed so far. The EU responds:
"I strongly condemn the executions which have reportedly taken place on Thursday 23 August 2012, following President Jammeh's stated intention to carry out all death penalties before mid-September," EU foreign affairs chief Catherine Ashton said in a statement.

"I demand the immediate halt of the executions," she added.

The European Union has previously condemned death sentences passed in Gambia, but Sunday's statement went further by indicating that action might follow.

"In light of these executions, the European Union will urgently consider an appropriate response," 

 Brian Brown's "civil" description of those GOP legislators who voted for marriage equality in New York: "Slippery" "slithery" "traitors."

 Hip-hop's long journey to acceptance:
"People are learning how to live and get along more, and accept people for who they are and not bash them or hurt them because they're different," Snoop Dogg said in a recent interview … 

"When I was growing up, you could never do that and announce that," Snoop said of [Frank Ocean's recent public acknowledgment of his homosexuality]. "There would be so much scrutiny and hate and negativity, and no one would step (forward) to support you because that's what we were brainwashed and trained to know."

 FOX News correspondent thinks Neil Armstrong's death provides an excellent opportunity to attack Barack Obama. 

 Madonna has been singing "Holiday" for a really long time. How long? Watch AFTER THE JUMP …