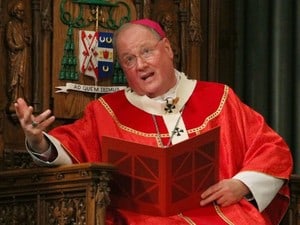 Catholic Cardinal Timothy Dolan of New York has confirmed that he'll be delivering the closing prayer after the Republican National Convention next week. His office insists, however, that he's not there to endorse any particular politics.
"The Cardinal made it clear to the RNC (and to the Democratic National Committee as well) that he was only there to offer a prayer, not to engage in any partisan politics and that he would be willing to accept a similar invitation from the DNC if they were to invite him to pray at their Convention as well," a spokesman told CNN.
Odd that Dolan claims not to be endorsing any partisan issue, because he has been an outspoken opponent of marriage equality, discriminatory politics enshrined in the GOP's official party platform.