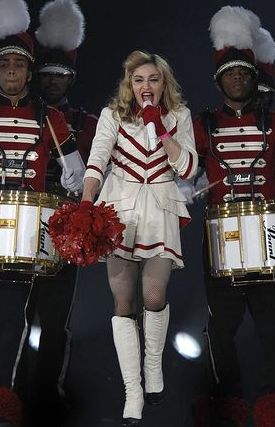 A group of ten anti-gay activists are suing Madonna after the singer praised equality during her concert in St. Petersburg, where saying nice things about LGBT people is against the law.
According to the activists, Madonna's pro-gay comments caused them "moral suffering" and so they're each entitled to one million bucks.
"[Madonna] had been warned with words that she should behave in line with the law and she ignored it. So we will speak in the language of money," disturbed plaintiff Darya Dedova said, according to Reuters.
Another activist worried that Madonna's LGBT-friendly ways would adversely impact Mother Russia's procreation rate: "Maybe someone does not see the link but after Madonna's concert maybe some boy becomes gay, some girl becomes lesbian, fewer children are born as a result and this big country cannot defend its borders – for me it causes moral suffering."
The group says they plan on donating the money to an orphonage. Sadly for those hypothetical orphans, these people will never, ever see that money. Nor, I'm guessing, will St. Petersburg see the $17,000 they fined Madge for the same appearance.