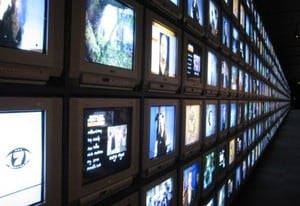 A new survey from Pew Research Center shows that the "believability ratings" — based on a four point scale in which high means "all or most" of the information is accepted, while the low side is "almost nothing"  — for all news outlets continues to decline, though local news still ranks as most "believable":
For the second time in a decade, the believability ratings for major news organizations have suffered broad-based declines. In the new survey, positive believability ratings have fallen significantly for nine of 13 news organizations tested. This follows a similar downturn in positive believability ratings that occurred between 2002 and 2004.
…
Across all 13 news organizations included in the survey, the average positive believability rating (3 or 4 on a 4-point scale) is 56%. In 2010, the average positive rating was 62%. A decade ago, the average rating for the news organizations tested was 71%. Since 2002, every news outlet's believability rating has suffered a double-digit drop, except for local daily newspapers and local TV news.
There are partisan differences in the findings, as well. While both Republicans and Democrats are less likely to take news at face value, Republicans, unsurprisingly, have more faith in Fox News and local news, while Democrats prefer almost all news except Fox News.