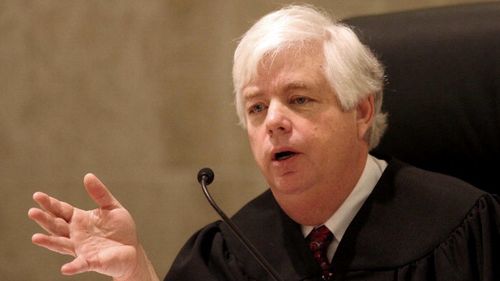 Yesterday, nearly 1,000 of Iowa's religious conservatives gathered in Grace Point Church, in Waukee, for the Family Leadership Summit. They did not seek to eliminate child hunger or illiteracy or poverty in Iowa, or to ensure that Iowa's children receive their vaccinations. They instead listened to addresses from Rick Perry, Rick Santorum, Mike Huckabee, Rep. Steve King, and others, and plotted the defeat of Supreme Court Justice David Wiggins, who's up for a retention vote this year. Judge Wiggins is one of the seven Iowa Supreme Court Justices who ruled against the Iowa Defense of Marriage Act in 2009.
The campaign to unseat Judge Wiggins was announced by failed gubernatorial candidate Bob Vander Plaats. From the AP:
"When you raise your hand and you swear an oath to the constitution and then you go outside of the constitution, outside of your separation of powers to legislate from the bench . . . we the people must hold a person like that in check," said Vander Plaats, chairman of [the anti-Wiggins campaign,] Iowans for Freedom.
Earlier this month, Andy reported that the state GOP is gunning for Judge Wiggins, too.
Three of the justices who threw out the Iowa Defense of Marriage Act have come up for retention vote since the ruling. All three have been ousted.