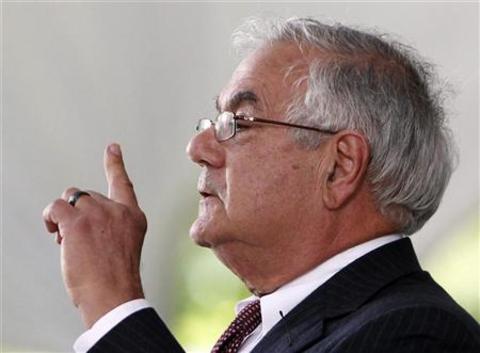 Recently wedded Congressman Barney Frank penned a piece for HuffPo today expressing his surprise over all the hubbub surrounding the Democratic Party platform draft that includes marriage equality.
Never in all his three decades as an elected official, writes the retiring congressman, has he seen such attention over a document that "at their best are predictors of what parties will do."
From his post:
I was surprised that this got the attention that it did, because in this instance, it is not even a promise or a prediction of what the Democrats will do. It is an after-the-fact statement of what we have already done.

President Obama has already stated his support for marriage equality for lesbian, gay, bisexual and transgender people, which is not only an important use of the bully pulpit to influence public opinion in general; it will be particularly helpful in the several referenda this fall on the subject, especially in states with large African-American populations, such as Maryland.

Equally important (as an exercise of presidential authority) is the president's refusal to defend DOMA in court because it is so blatantly unconstitutional, as well as his articulation that any government action discriminating against LGBT Americans must meet a higher standard than the simple "rational basis" test. This is an important addition to our fight for equality in general. This administration's view that it should be harder to justify such discrimination in court is a goal that has long been sought by me and others, and the president's support for it promises to be helpful not just on this particular issue, but on all other issues going forward.

Governor Romney, of course, opposes the president on every one of these points.
After delineating the legislative and philosophical differences between the parties, Frank, retiring after this term, says he fully expects equality is in the platform's final version and that when that happens, "Democrats will be continuing our opposition to the Republican Party's effort to negate our right to marry.