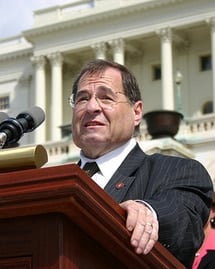 During a House Judiciary Committee hearing today on a GOP-led effort to make English the official national language, Democratic Congressman Jerrold Nadler of New York likened the legislative crusade to other anti-civil rights efforts, including homophobic discrimination.
Nadler's remarks, via Talking Points Memo:
Having already spent an extraordinary amount of Committee time and resources in an effort to roll-back the civil rights of women, persons with disabilities, gay and lesbian Americans and other minorities, our Majority colleagues are now using the last day before the House adjourns until September to highlight a bill that would place at risk the 24.5 million people in the United States who need language assistance from their government in some situations.
A long-time equality advocate, Nadler is one of the over 80 Democrats who this week urged the Obama administration to spell out how binational same-sex couples will be protected under new, looser immigration enforcement laws.