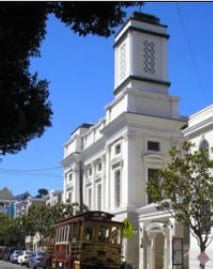 In 2006, Most Holy Redeemer Catholic Church — a charming little house of worship just two and a half blocks from The Castro Theatre, and even closer to The Sausage Factory — laid down the law: No more Sisters of Perpetual Indulgence. The Sisters had been running bingo games at the church, the proceeds from which went to charity, and some of the congregants seem to have hated it. At the time, the parish council president called the Sisters' very existence a "direct affront to Jesus," and likened their use of church facilities to "using a Jewish space to host an Adolf Hitler look-alike contest."
But it was just the Sisters who were banned. People in drag not impersonating nuns were, in theory, still welcome. Now they'e not. 
So learned the Castro Country Club, a queer recovery group, when they were planning their annual Harvest Ball fundraiser at the church — an event always emceed by drag queens, and until now held happily in Most Holy Redeemer's social hall. But this year the San Francisco Archdiocese has a new Archbishop, and Most Holy Redeemer has a new pastor, Rev. Brian Costello. From the Bay Area Reporter:
Costello said that during a telephone conversation with a Castro Country Club representative, when the topic of drag queens came up, he told the person, "That is not going to work under the present circumstances."

"I said work with me. You can still have the dinner. You can have a regular emcee, but not drag queens on church property," Costello said.
Costello says the order comes directly from the Archbishop: he will allow no drag queens on church property, ever. If that's true, it's silly, because Archbishops like to dress like this: