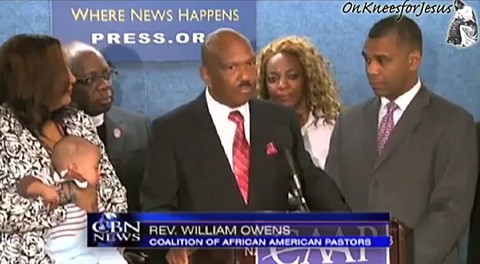 The Washington Post says that Black churches "are split" over gay marriage and Obama:
Overall, African-Americans remain one of the groups most opposed to gay marriage: 51 percent are opposed, while 40 percent support it, according to a recent poll by the Pew Forum on Religion & Public Life. That support, however, has edged up from 26 percent just four years ago. Among black Protestants, opposition is slightly higher, at 54 percent.
Pew researchers said Obama's support hasn't noticeably shifted opinion in either direction, but some smaller groups are seeking to galvanize lingering black skepticism over gay marriage to make it a wedge issue for African-American voters this November.
"I would hope that the president would become wise, come to his senses and know that he has made a mistake," said the Rev. William Owens, president of the fledgling Coalition of African-American Pastors, at a recent National Press Club news conference.
His group is circulating an online petition to ask Obama to "repudiate his assertion that gay marriage is a civil right."
The Christian Broadcasting Network gave the National Press Club press conference by the anti-gay Coalition of African-American Pastors and Rev. William Owens a segment earlier this week, highlighting Owens' proclamation that Obama is a 'Judas' for pandering to the gay community.
"And for the President to bow to the money as Judas did for Jesus Christ, is a disgrace, and we are ashamed."
Watch their interview with Owens, AFTER THE JUMP…
NOTE: You may remember the video the pastors released in July, repeating many of these accusations.