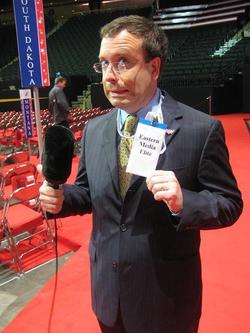 Radio host Michelangelo Signorile invited Washington Post columnist Dana Milbank onto his show yesterday so that Milbank could discuss the controversial article in which he criticizes the Southern Poverty Law Center for labeling the anti-gay organization Family Research Council a hate group because such a label can inspire madness like the FRC shooting.
Milbank wrote at the time that it is "reckless" calling people who rabble-rouse against equality by spreading lies and vitriol a "hate group." He stuck by that story during his conversation with Signorile and tried to further emphasize his point by contrasting the FRC, which he called a "Washington think tank," with the KKK.
"The hate group category, is with the exception of the Family Research Council, a bunch of neo-Nazi and Ku Klux Klan-like groups, and while they may say all kinds of wacky things at the FRC, they're a Washington think tank, not a group that puts on sheets and organizes lynch mobs," he said.
Reminded that "hate group" is applied to non-violent groups as well, Milbank again went for the most extreme comparison: Some [hate groups] put on white sheets and go around and lynch people and some of them don't. It's not the same as the KKK and Stormfront. There is a fundamental distinction. I think people who say hateful things are in one category and people who commit violent acts are in another category." Milbank also tried to bolster FRC's credibility by mentioning that it was founded by James Dobson and run for a spell by Gary Bauer, a man whose past as a failed presidential candidate somehow makes him more legitimate and wholesome.
Milbank later griped that the interview was an "ambush," but Signorile insists Milbank was informed ahead of time they would be discussing his column. "Milbank was not asked to come on the show under any false pretenses. He
was invited on the show to discuss the controversial column he'd
written, and he accepted the invitation," said Signorile.
Listen to the interview over at The Huffington Post.