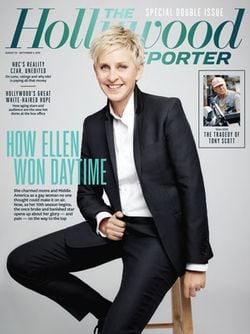 Can you believe Ellen DeGeneres has had a talk show for a decade? It seemed after she came out and her sitcom was canceled that the comedienne would fade from public view, but DeGeneres proved naysayers wrong.
In a cover profile in the latest The Hollywood Reporter, DeGeneres discusses how she and her Warner Bros. partners traveled the country to ease any worries middle American stations may have had about carrying a lesbian's daytime talk show.
DeGeneres' popularity among those Middle America viewers (many of whom likely voted for McCain) is not without irony. In fact, this is precisely the viewership affiliates feared a homosexual comedian would offend, if not altogether alienate, when Warner Bros. executives pitched Ellen 10 years ago.

To persuade those skittish station managers, DeGeneres crisscrossed the country, making stops in each of their markets with Jim Paratore, the late president of Telepictures Productions. "They were always shocked. They'd be like, 'She didn't curse,' as though cursing were a characteristic of gay people," says DeGeneres, reflecting on the draining process of schmoozing a cadre of people fearful of who she was and, worse, what she might do with it on air.

"These stations really thought she'd have a gay agenda. It was the hardest show we've ever had to launch in the history of our company," says [Warner Bros. executive Hilary Estey] McLoughlin, recalling the subsequent test interviews she did prelaunch with stars including Tom Hanks, Helen Hunt and singer Alanis Morissette to show affiliates she was capable of having compelling conversations with those outside of the gay community.

"I had to show them that I know how to talk to people — like how hard is it to talk to people? — and still a lot of them didn't want to hire me," adds DeGeneres, who confesses over iced teas at West Hollywood's Soho House in August that being on this end of an interview is the only time she is uncomfortable talking. (It is for that reason that DeGeneres, more serious in person than she is on her show, gives them so infrequently.)
If you love DeGeneres the Cover Girl, read more of Lacey Rose's profile of DeGeneres at The Hollywood Reporter.
(ht/ Good As You)