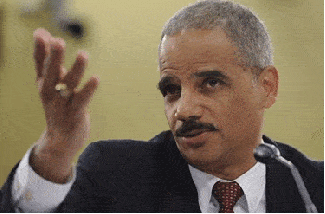 Eric Holder delivered a keynote speech to kick off the LGBT Bar Association's annual Lavender Law Conference this evening.
The Attorney General celebrated the Obama administration's pro-equality successes, including often-overlooked accomplishments like the Justice Department Civil Rights Division's work with local law enforcement on LGBT discrimination and filing the first indictment under a federal hate crimes law, but he also reminded the lawyers that much work needs to be done, and challenged them to use the current "momentum" to win equal rights.
"I'm also here to ask for your continued help, to draw on your considerable passion and expertise, and to reiterate the Department's commitment – and my own – to building on the momentum we've established, and ensuring that the recent successes we've seen are just the beginning," Holder said, according to the Washington Blade. "As current – and aspiring – leaders of the bench and bar, everyone here tonight understands what's at stake. You realize how important every hard-fought legal victory – large and small – really is."
With their positions and appreciation of the law, said Holder, the men and women gathered have a "solemn responsibility" to fight for equality:
You are – or soon will be – uniquely situated to use the power of the law, as well as your own gifts and knowledge, to help build a more fair, more equal, and more just society. And you have not only the power, but – I believe – the solemn responsibility, to do precisely that: to safeguard the rights and freedoms of everyone in this country, and to carry on the critical but unfinished work that lies ahead.

Of course, this never has been – and never will be – easy.  But as I look around this room, I can't help but feel optimistic about where your efforts will lead us – and how far our collective commitment will take us – in the months and years ahead.  With the benefit of your partnership and the strength of your passion, I know that we can – and I'm confident that we will – continue the work that has become both our shared priority and common cause.  And I look forward to all that we will surely accomplish together.