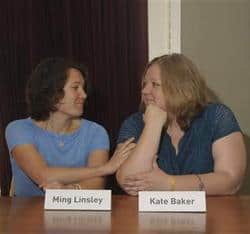 The Wildflower Inn in Lyndonville, VT will pay $10,000 to the ACLU and give $20,000 to a charitable cause after agreeing to settle a discrimination suit filed by two women who say the inn would not host their same-sex wedding reception.
"We're glad that the Wildflower Inn has recognized that the way we were treated was wrong and that no other family will have to experience what we did," said one of the women, Ming Linsley.
"Although we found a different location and had a beautiful day, all families should feel welcome at any resort that's open to the public."
As part of the settlement, the inn has agreed not to host weddings or wedding receptions, but insist that the lawsuit stemmed from a miscommunication in which an employee erroneously denied Linsley and her wife. Though they maintain their opposition against marriage equality, they would have happily taken Linsley's money and then lectured her, they said.