Some additional details regarding the man who shot a security guard earlier today at the Family Research Council, via the HuffPost: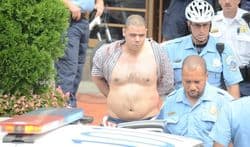 Corkins had been volunteering for about the past 6 months at The DC Center for the LGBT Community, said David Mariner, executive director of the community center, which is in Northwest Washington. He usually staffed the center's front desk on Saturdays, and his most recent shift was about two weeks ago.
"He always struck me as a kind, gentle and unassuming young man. I'm very surprised that he could be involved in something like this," Mariner said.
Though authorities did not publicly reveal a motive, advocacy groups across the ideological spectrum condemned the violence, with some casting it as a hate crime.
"Today's attack is the clearest sign we've seen that labeling pro-marriage groups as `hateful' must end," Brian Brown, the president of the National Organization for Marriage, said in a statement.