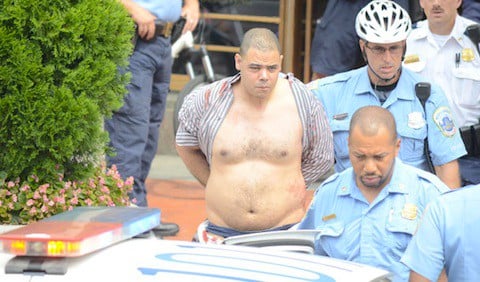 The shooter at the Family Research Council headquarters has been identified as Flord Corkins, 28, of Herndon, Virginia.
TPM reports:
As of late Wednesday afternoon, officials with the FBI, the Metropolitan Police Department and the Family Research Council would not confirm the reports that the suspect expressed his displeasure with the FRC's opposition to gay marriage. Law enforcement officials said the matter was still under investigation and it was too early to speak to the individual's motivation.
The incident could be handled as an incident of domestic terrorism depending on the suspect's motivations, an FBI spokeswoman told reporters on the scene.
NBC and ABC7 identified him as 28-year-old Floyd Corkins of Virginia. Fox News obtained photos of the man, apparently taken by a witness, that show the suspect in handcuffs and his bloody shirt fully unbuttoned.
Watch FOX5's report, AFTER THE JUMP…
Earlier…
FRC Shooter Reportedly Carried Chick-fil-A Promotional Materials [tlrd]
Security Guard Shot at Family Research Council HQ in Washington D.C.: VIDEO [tlrd]
23 LGBT Groups Issue Statement on Family Research Council Shooting [tlrd]
Video may take a few seconds to load…