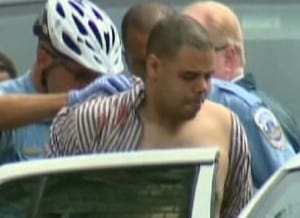 A little update on the FRC shooting: Authorities held Floyd Corkins on an assault with a deadly weapon charge after the 28-year old allegedly shot a security guard at the Family Research Council's DC HQ yesterday. Meanwhile, the FBI's investigation took them to the LGBT center where Corkins volunteered on weekends.
"The FBI was just here, and we are cooperating with them fully," the center's executive director David Mariner told BuzzFeed yesterday. He also told the site they are "shocked and appalled" by the shooting.
As the FBI looks into a specific motive for Corkins' alleged actions, the anti-gay National Organization for Marriage went ahead and said the shooting is directly related to the fact that the Southern Poverty Law Center and allied organizations consider FRC a "hate group."
"Today's attack is the clearest sign we've seen that labeling pro-marriage groups as 'hateful' must end," said NOM president Brian Brown yesterday. "'For too long national gay rights groups have intentionally marginalized and ostracized pro-marriage groups and individuals by labeling them as 'hateful' and 'bigoted.'"
Fred Sainz from Human Rights Campaign said Brown's remarks are "irresponsible" and "spurious," telling The Hill, "That's about as irresponsible as anything I've ever heard in Washington. They have zero facts to go on. They have no idea who this individual is, what his motivation is, or where he's coming from ideologically."
As is typically the case in such politically charged situations — see Jared Loughner — it's most likely civil matters weren't on Corkins' mind yesterday, regardless of his past political ties or allegiances, and claiming otherwise is like playing judge, jury and executioner for a case that is not even close to trial.