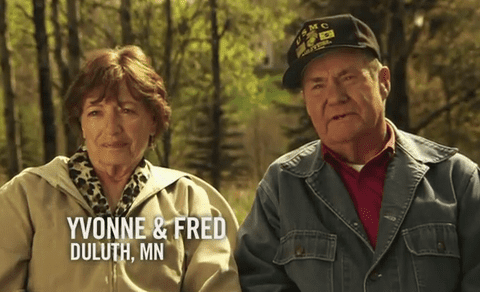 With election day rapidly approaching, the national group Freedom To Marry today debuted its first television ad.
Called "Grandparents" and airing in Minnesota, where voters will decide on an amendment banning marriage equality come November, the 30-second spot features a Duluth couple called Yvonne and Fred Peterson.
Peterson, a veteran who says he's fought for "the basic freedoms for all people," explains that the past 53-years with his wife are the happiest of his life and that gay and lesbian couples deserve the same joy.
While they weren't always so understanding — Yvonne admits she used to be against equality — they realize the world has changed and that society must too.
"The world is changing," says Fred. "Gay and lesbian people want to get married for the same reason that I wanted to marry my wife. Why shouldn't other people be able to enjoy the happiness and the love that we've enjoyed through our lifetime?"
Minnesota Public Radio notes that the couple have a gay grandson, though he is not mentioned in the commercial. More from that report:
To John Aldrich, a political science professor at Duke University, it's noteworthy that the first advertisement features older, straight, grandparents from greater Minnesota.

"Ten years ago, you wouldn't have seen an ad like that. It may not have even been possible to find — except for professional actors acting professionally. You couldn't find people in the street to have played that kind of a role," Aldrich said.

He said reaching older, blue collar voters is what the VOTE NO campaign needs to tip toward majority support and defeat the amendment.
The ad will run for the next few weeks in the Twin Cities and Duluth. Watch it AFTER THE JUMP.