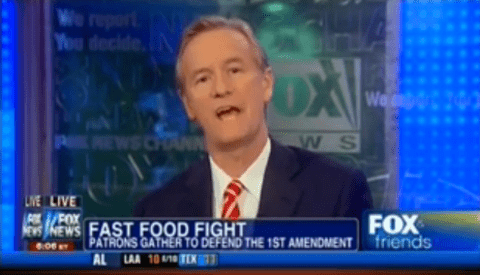 Fox News has been having a field day with the protests over Chick-fil-A, and they're making no secret of where they stand: the Fox & Friends hosts had some of the franchise's fare for breakfast during today's show.
It was there that host Steve Doocy firmly aligned himself with Chick-fil-A. In his opinion, "so many on the left are so intolerant" and the protests over Chick-fil-A CEO Dan Cathy's anti-gay politics, and the money the company has funneled to anti-gay causes, is an attack on free speech.
Doocy and company also chatted with former Arkansas Governor Mike Huckabee today. Huckabee is the man who sparked the right's "Chick-fil-A Appreciation Day," which Fox host Brian Kilmeade calls a "great idea."
As for Huckabee, he says he organized because the left's "hate speech" was "getting out of hand" and that Chick-fil was being subjected to "economic bullying."
"It was just getting out of hand — the hate speech and the incredible language that was being hurled at Dan Cathy, the CEO, because in an interview with a Christian newspaper he took a stand for traditional marriage," he said, according to Mediaite. "For that, he was just being bullied. Economic bullying was the way this was going down."
Huckabee was also asked about the "kiss-in" being held tomorrow by LGBT activists and their allies to counter the conservative action. He says supports their freedom to assemble as long as they're "orderly." Of course his alleged support comes with a subtle jab pitting LGBT people against families, which are of course only headed by heterosexual couples: "If [the LGBT activists] believe that this [kiss-in] will help their cause – to put people of the same sex kissing each other in front of families – if they believe that will encourage people to be more sympathetic than more power to them. In America, I believe that people have the right to do things that I might not agree with."
Watch both videos AFTER THE JUMP.