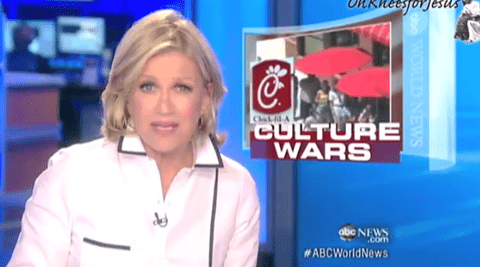 "The lines wrapped around the malls." So says ABC News' Steve Osunsami in his report on the right-wing's "Chick-fil-A Appreciation Day." Some people are so supportive of company CEO Dan Cathy and his anti-gay politics that they had two sandwiches!
Osunami's was just one of the many reports from around the country, networks and cable news channels. Watch a round up, via On Knees for Jesus, AFTER THE JUMP.
On a related note: the Los Angeles Times reports gay advocates are planning a kiss-in outside Chick-fil-A locations tomorrow to counter this right-wing display. Hopefully the mainstream media will report on that as well.