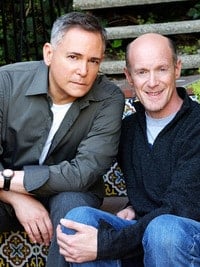 A big congratulations are in order for Craig Zadan and Neil Meron. It was just announced this morning that the openly gay producers of Hairspray and Chicago have been enlisted to put on the 85th Academy Awards.
"We are very excited to collaborate with…everyone at the Academy to produce this year's Oscars," said the duo behind Storyline Productions. "We hope to utilize our experience in producing features, TV, and theater to bring something fresh and special to this incredible awards show. When we filmed The Bucket List, we made our own personal bucket list, and producing the Oscars was #1. It's truly a great honor."
GLAAD, which honored the men with the Vito Russo Award at the organization's 23rd Media Awards, celebrated the news, of course.
"For decades, Craig Zadan and Neil Meron have been fearless in bringing powerful and entertaining stories to screens, and will undoubtedly bring that same level of passion and skill for storytelling to the Oscars," said GLAAD President Herndon Graddick in a press release.