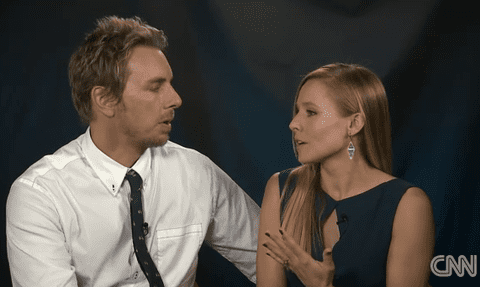 Like other Hollywood couples before them, sloth-loving actress Kristen Bell and fiance Dax Shepard have vowed not to marry until same-sex couples from coast-to-coast have the same rights. Unlike some other couples — hello, soon-to-be Mr. and Mrs. Brad Pitt — Bell and Shepard promise to keep their word.
Said Shepard to CNN: "We're not going to have a party when half of our friends … can't do that thing we're doing. We're not going to ask them to come celebrate a right they don't have. That's just tacky! Forget like anything else, it's like really tacky for us."
For her part, Bell remarked, "I don't believe in standing in the way of love, and I want to stand up for that right. And that's what it is. If someone wants to commit their life to another person, why would I not bolster that argument?"
Watch the couple discuss their commitment to equality AFTER THE JUMP. I've also included the infamous video of Bell having a breakdown over meeting a sloth, just because it is such a great video and will (hopefully) make you smile.