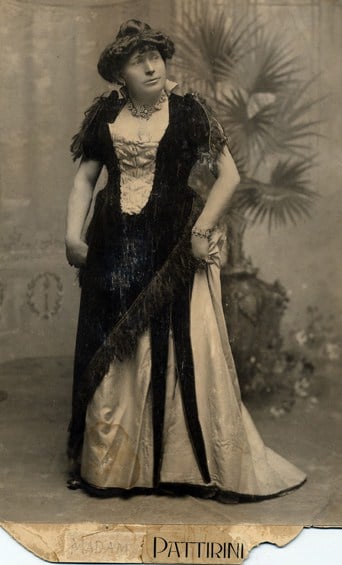 Kevin Sessums writes:
For your visual edification here is a photograph of Brigham Morris Young, son of Brigham Young, in drag as Italian opera diva "Madam Pattirini," circa 1901. It is a photographic placard which advertised "her: appearance at the Sugar House Ward, a Mormon "meeting house" in Salt Lake City, Utah…Lord have mercy.
Kevin offers us some additional information:
Brigham Young had 55 wives and fathered 56 children by 16 of them . Brigham Morris Young was his 35th son and founded the Young Men's Mutual Improvement Association (YMMIA), the predecessor to the Young Men program of The Church of Jesus Christ of Latter-day Saints (LDS Church). You can't make this stuff up. He performed as Pattirini in north and central Utah venues from 1885 to the 1900s. He could produce a convincing falsetto, and many in the audience did not realize that Pattirini was Young.
He did marry one wife and had children of his own.