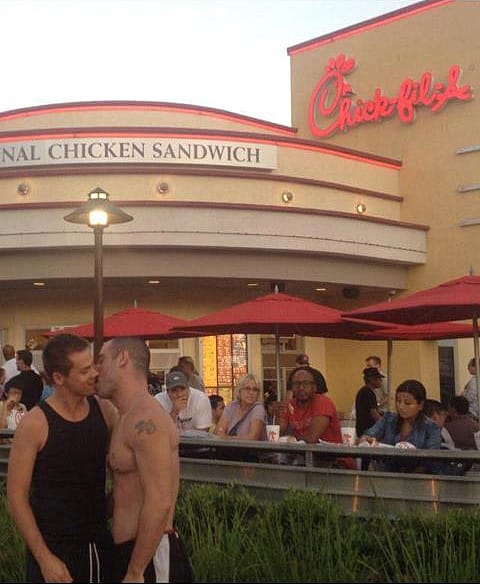 Jason King and Drew Montalvo posted this photo to their Facebook account yesterday and the early birds already have nearly 500 shares and hundreds of comments, positive and negative.
Expect to see many more like this today.
The Courage Campaign has provided a website with information on actions and Chick-fil-A restaurants in your state.
Pam Spaulding writes:
IMHO, I'm not keen on this as an effective protest tool — it's not about our right to love (ostensibly why gay couples will be there kissing), it's about Chick-fil-As record of anti-gay discrimination and funding of groups that want us DEAD, endorse "ex-gay" therapy, and to deny LGBTs basic civil rights. The kiss-in seems more like a stunt for shock value that the fundies will try capitalize on by tying the action to sex acts that they abhor. The "ick" factor has been one of the major issues these folks cling to, like it or not.
What about you folks? Do you see kiss-ins as an effective protest tool in this instance? And if not, what are your suggestions?