The Iowa GOP and right-wing activists, who were successful in ousting three pro-equality Supreme Court justices when they were up for retention in 2010, have set their sights on the only justice up for retention in November, the Des Moines Register reports: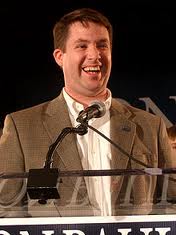 Chairman A.J. Spiker (right), in a statement emailed across Iowa this morning, called for Iowans to vote against Iowa Supreme Court Justice David Wiggins to "help end the bullying of activist judges once and for all."
The Nov. 6 general election ballots will ask whether Wiggins should retain his seat on the bench. He is the fourth justice to come up for a retention vote since the court's unanimous ruling in spring 2009. The first three justices, Marsha Ternus, David Baker and Michael Streit, were ousted by Iowa voters in fall 2010.
Several factors have taken some of the shine off the issue, including the passage of time, according to Iowa political insiders.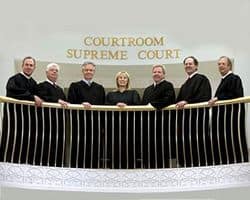 Said Spiker in his statement:
"In 2010 Iowa voters chose to dismiss three activist judges who allowed their own politics to influence their obligation to uphold the Iowa Constitution. These three were among a handful of judges who chose to disregard years of legal precedent on the status of marriage and how it was to be defined.
"Instead of allowing the people of Iowa to decide this issue at the polls, these judges instead chose to impose their will upon the state and re-write history without weighing the merits of our laws and values. Regardless of political pressure or the state of cultural affairs at the moment, it is the people of Iowa through our elections that must be permitted to decide this important issue.
"Just as Iowans successfully showed in 2010, it is again time to put a check on this power and reign in an activist judge from his position of misused authority.
"This is the only chance voters have to make their voice heard and we must take the opportunity to remove Justice David Wiggins from his post and show him his arrogance and disregard for the law does indeed have consequences.
"On behalf of the Republican Party of Iowa, I urge all Iowans to go to the polls this November and vote 'no' on the retention of Justice Wiggins.
Read the full statement HERE.