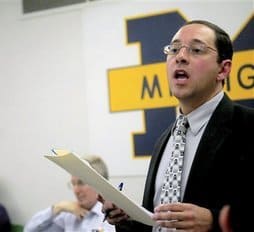 Andrew Shirvell hasn't changed a bit.
You'll recall that Shirvell is the former Michigan assistant attorney general who lost his job in 2010 after launching a heinous one-man crusade against openly gay University of Michigan student body president Chris Armstrong, whom he accused of pushing the "homosexual agenda".
Well, Shirvell made that very same claim yesterday, when he acted as his own lawyer and defended himself against Armstrong's federal lawsuit against him.
Insisting he has "no hatred in his heart" from Armstrong, Shirvell told the court Armstrong advocated a "radical homosexual agenda" during his tenure at the school, according to Detroit Free Press. And Shirvell also claims that his blog about Armstrong was "political speech" designed to topple's the student's presidency.
Shirvell questioned himself on the witness stand for more than an hour Wednesday, trying to convince the jury he was upset by Armstrong's push for gender-neutral housing at U-M. Shirvell graduated in 2002.

"My blog was political speech," Shirvell testified. "I viewed my blog as a movement to get Mr. Armstrong to resign. I personally felt Mr. Armstrong was too radical for the position."

Armstrong's attorney, Deborah Gordon, questioned whether Shirvell was really upset with the gender-neutral issue, or whether he was "obsessed" with her client.
Armstrong's suit, which is asking $25,000 in compensatory damages, says Shirvell defamed his character and inflicted emotional distress.