Yesterday I posted a letter from PETA VP Dan Mathews to Lady Gaga objecting to the fact that she wore fur on several recent occasions.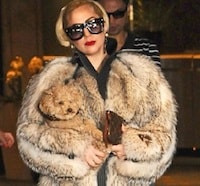 Gaga fired back over Twitter late yesterday:
"For those press and such who are writing about whether or not my fur is actually real, please don't forget to credit the designer HERMES. Thank You! LOVE, gaga"
Mathew suggested in his letter that her response would determine whether she would be "targeted" like Kim Kardashian, who was flour-bombed at a red carpet event.