A Malaysian pastor and his husband have held the country's first gay wedding banquet for his husband, Bikya Masr reports: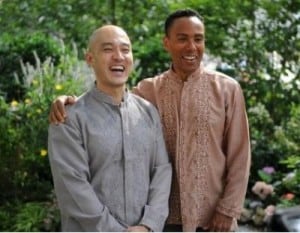 Malaysian-born Ngeo Boon Lin and his African-American husband Phineas Newborn III, quietly held the closed reception on Saturday, reports said.
The couple even stole public kisses and had karaoke ballad performances with some 200 guests, including a handful of Chinese-language journalists who were asked not to report on the event until afterward.
It comes on the heels of Malaysian government officials lashing out at the LGBT community, including Prime Minister Najib Razak, who said last month that the gay community was "un-Islamic" and had "no role" in Malaysia society.
The AP adds:
Ngeo, an ethnic Chinese pastor who has lived mainly in the United States since 1998, attracted criticism from Malaysian officials and religious groups when he married Newborn, a Broadway musical producer, last August.
Even though Ngeo identifies himself as a Christian, Malaysia's Cabinet minister for Islamic affairs voiced fears at the time that his nuptials could promote "extremism" among Malaysia's 28 million people, including ethnic Malay Muslims who comprise nearly two-thirds of the population. A newspaper owned by the ruling party urged authorities to prevent Ngeo from holding any wedding celebration in Malaysia.
Ngeo chose to wait until things had cooled off and held the banquet this weekend.