A Cape Girardeau, Missouri woman is recovering from injuries she sustained from an attack by teenage neighbors, directed at her over her sexual orientation. She says the teens have been harassing her and her partner, Southeast Missourian reports: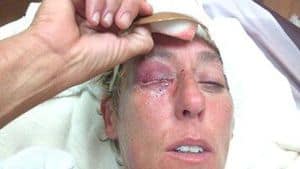 The couple say the teen began shouting slurs at them, as had happened on several other occasions, and they responded by telling her to get off their property. There have been other times in the past several months, the couple said, that they have told the children's parents that they were concerned with anti-gay slurs coming from the children. But no physical threats had happened until now.
The couple say the 16-year-old girl brought her younger brother onto the couple's porch and pulled Terry outside when she opened the door, then began hitting her. The fight was then joined, Terry said, by the 13-year-old sister and two friends, who neighbors say were summoned by the oldest girl by phone just before the commotion began. Neighbors said the two friends were able to get away before police arrived. They are not in custody.
Another neighbor says she's terrified now:
"Now I am afraid to come down here and visit," Poole said Friday as she sat in the couple's living room.
What she said she saw when she looked out her front door last Tuesday evening is why.
"They were kicking, stomping and beating the hell out of her," Poole said of the alleged attack on Terry, 41, by three siblings who live in a house across the street. Two girls, ages 16 and 13, and their 11-year-old brother are still in custody in the Mississippi County Regional Juvenile Detention Center, authorities say, charged with assault and burglary.
Terry and Lange are gay, and believe what they experienced — they say the oldest girl rounded up her siblings and some friends and came onto their front porch with the intention of an attack — is a hate crime, though the juvenile's mother tells a different version of events.
Much more at the Southeast Missourian….