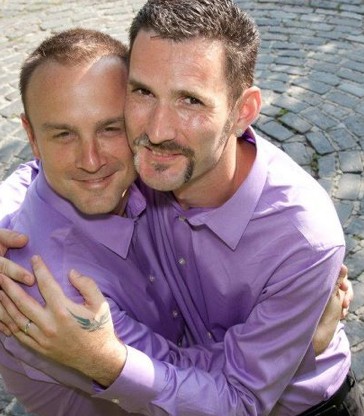 Meet Jon and Nedo, a binational married couple whose union is imperiled by an expiring visa:
Since the day we first met, Nedo and I have not been apart with the exception of the seven months while we waited for him to come to the United States on his student visa … To this day the effects of [the] decision to leave his family are deeply emotional and he can't allow himself to communicate with them regularly because it is easier to disassociate then deal with the enormity of that decision. Every time he talks to his family he ends up crying for the remainder of the night.  He misses his nieces and nephews terribly and it hurts him not to see them regularly. The fact that he is separated from his mother is something he can't even fully grasp without his eyes swelling with tears. Due to his current legal status he cannot risk leaving the country for fear his visa will not be renewed, but this means he also must live with the knowledge that he may never see his parents again. They are getting older and the more time that goes by without him being able to visit is another form of torment for us as a gay binational American family. My husband experiences this pain often, and it causes me to resent my government for the pain our families suffer in the name of DOMA.

… Each year we participate in the Diversity Visa Green Card Lottery and this last year was especially bitter for us as we are running out of time on Nedo's visa. The Green Card Lottery is our final hope … Because his visa will be up in February of 2013 we are running out of options …

We can no longer put off conversations about what will happen to us next year …

Tasmania likely to become first Australian state to grant marriage equality.

Conservative news organs complain that the mainstream media ignored Chick-fil-A appreciation day.

Indiana megachurch pastor Jack Schaap dismissed after allegations of sexual conduct with a 16-year-old girl:
"At this time, we deeply regret the need to announce that First Baptist Church has dismissed our pastor, Dr. Jack Schaap, due to a sin that has caused him to forfeit his right to be our pastor," the church said in a statement.

There were as many as a hundred Christian families in the Egyptian town of Dahshour. After mob rampage, there are none:
The violence was ultimately rooted in a dispute over a badly ironed shirt that escalated into a fight in which a Christian burned a Muslim to death, in turn sparking the rampage by angry Muslims.

"It was a devil's moment," Wehba said Thursday at the home of her Muslim neighbors, who have taken her in. "Whoever caused this was the devil's son."

What Afghan girls brave on the way to school.

Five ridiculous atheists.

NBC apologizes for airing an ad starring a gymnast monkey immediately after recapping Gabby Douglas's gold-winning performance.

Michael Phelps concludes a storied career.

A lucky Olympic picture.