The sad state of American political engagement: shockingly engaging TLC reality show Here Comes Honey Boo Boo beat the Republican National Convention in the ratings game.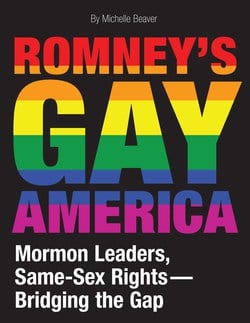 The book Romney's Gay America: Mormon Leaders, Same-Sex Rights — Bridging the Gap is currently the number one gay and lesbian non-fiction book at Amazon. "[The book] concludes that the LDS Church should apologize for its past regarding
gays, should be more open to gays, and that the whole country should be
more open to Mormons," says author Michelle Beaver.

This is good news: "The Federal Bureau of Prisons recently supplemented its
workplace-diversity program by adding an LGBT representative at each of
its 125 prisons and administrative offices nationwide."

A Texas man is suing the makers of an erectile dysfunction drug after he says it "broke" his penis.

An official ethics complaint has been filed against Brad Wilcox for his role in securing funding for junk scientist Mark Regnerus' "gays make bad parents" study that appeared in Social Science Research, on whose editorial board Wilcox sits.

Taylor Lautner joining 50 Shades of Grey movie as younger version of titular Grey?

There is a salad pricing conspiracy
currently squeezing every possible penny out of lettuce-loving New
Yorkers. Does it go all the way to the top, where croutons belong?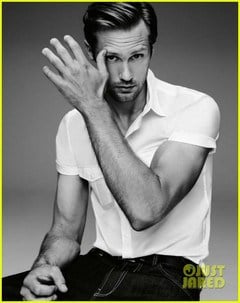 Alexander Skarsgard looks as attractive as always in the latest issue of Australia's GQ Style.

RIP UK-based LGBT activist Allan Horsfall. "Under
Allan's presidency in the 1970s and 80s, the [Campaign for Homosexual Equality] grew to be the largest ever
mass membership LGBT rights organisation in the UK. Peter Tatchell, Director of
the Peter Tatchell Foundation, said: 'Allan was arguably the grandfather of the
modern human rights movement in Britain… We all walk in Allan's shadow.'"

LGBT activists in Zimbabwe have a joke that homophobic President Robert Mugabe is "an ambassador for gay rights" because his anti-gay rabble-rousing helps open people's eyes to the abuse and discrimination LGBT people face.

Republican vice presidential candidate Paul Ryan claims to have run a marathon in under 3 hours. That would be really, really fast, but it's also an unproven claim and Runner's World is currently looking for documentation to verify Ryan's alleged athleticism.

Randy Jackson out as an American Idol judge.

The Killers are alright with Mitt Romney liking their music. Said bassist Mark Stoermer: "He's, I guess, a guy and he listens to music and happens to like us. That's fine."

Did Prince Harry's instantly infamous Las Vegas adventure also include cocaine and prostitutes?

How does it make you feel to hear that Luke Perry and Jennie Garth, fictional star-crossed lovers on Beverly Hills, 90210, are reportedly dating in real life? Yeah, me too.

A more pressing question than Dylan and Kelly's love life: "San Diego bus drivers' dizziness linked to pot-laced brownies?"

Openly gay Top Chef: Just Desserts winner Yigit Pura wants to share behind-the-scenes shots of his forthcoming San Francisco patisserie Tout Sweet Patisserie. Go ahead, give him what he wants.

In this song inspired by Clint Eastwood's RNC speech, the actor speaks to all kinds of objects, including a bucket of mackerel and a dirty, dirty mop.

Taylor Swift has released the full-length video for every recently jilted lover's favorite song, "We Are Never, Ever Getting Back Together".