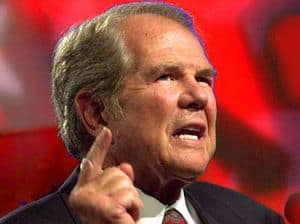 Rev. Pat Robertson angered some of his co-religionists this week, when on the 700 Club he seemed to suggest that international adoption is bad idea.
What occasioned the corrupt old shaman's suggestion was a letter, read aloud on the air by co-host Kristi Watts, from a woman expressing frustration about her dating difficulties, which she believed stemmed from her having adopted three young girls from different countries. Kristi Watts was sympathetic. Robertson was less so. The Christian Post has transcribed Robertson's remarks:
"A man doesn't want to take on the United Nations, and a woman has all these various children, blended family, what is it – you don't know what problems there are. I'm serious. I've got a dear friend, an adopted son, a little kid from an orphanage down in Columbia. Child had brain damage, grew up weird. And you just never know what's been done to a child before you get that child. What kind of sexual abuse has been, what kind of cruelty, what kind of food deprivation, etc. etc." the televangelist said.

Robertson continued: "You don't have to take on somebody else's problems. You really don't. You can help people – we administer to orphans all over the world, we love helping people. But that doesn't necessarily mean that I'm going to take all the orphans around the world into my home.
Russell Moore, the massively influential Evangelical writer and dean of the Southern Baptist Theological Seminary, offered a swift and — in the very best sense of the word — Christian rebuke:
I am taking a deep breath here and reciting Beatitudes to myself. I had promised never to mention Robertson here again. Every few months he says some crazy scandalous thing. He blames 9/11 and Hurricane Katrina on gays and lesbians, cozies up to the Chinese coercive and murderous one-child policy, counsels a man that he can divorce his Alzheimer's-riddled wife because she's "not there" anymore.

Let me just say this bluntly. This is not just a statement we ought to disagree with. This is of the devil.

… The issue here isn't just that Robertson is, with cruel and callous language, dismissing the Christian mandate to care for the widows and orphans in their distress. The issue is that his disregard is part of a larger worldview. The prosperity and power gospel Robertson has preached fits perfectly well with the kind of counsel he's giving in recent years … For too long, we've let our leaders replace the cross with an Asherah pole. Enough is enough.

Jesus was, after all, one of those adopted kids. Joseph of Nazareth was faced with a pregnant woman he could easily have abandoned …
And he didn't, according to Robertson's Bible, even though the kid might've turned out "weird."
Robertson, aghast at and unused to being called "of the devil," promptly issued an apology:
Today, on live television, I misstated my heartfelt dedication and commitment to helping orphans. For decades, I have supported adoption, and have helped tens of thousands of children worldwide.

I wanted to say, but it didn't come out the way I intended, that adoption is not for everyone.

The mother of three adopted children, who wrote in about her boyfriend's issue with her children, did a wonderful, unselfish act to adopt and I respect her immensely. Yet, adoption might not be a fit for her boyfriend. If that is the case, she needs to find someone who better shares her passion for adoption.

Adoptive parents are taking on enormous responsibility, both emotionally and financially. Quite frankly, they need as much disclosure as possible about the child's background and health to assure the best fit and be prepared.

In answering the letter writer, this is what I meant to say. If any doubt remains, I ask you to please look at what I've done over the years to help orphans.