SB 1172, the bill currently kicking around the California legislature that would outlaw the administration of "reparative therapy" to children, is likely to move to the full assembly next week. If the houses can agree on the bill's wording, it'll head to the desk of Governor Jerry Brown, who either will or won't sign it sometime in September. It's a story worth watching.
FOX News has certainly been paying attention. They've published a pretty good overview of the story so far — though, being FOX, they do include an unnecessary number of paragraphs like this one:
"[The law] unconstitutionally prohibits speech…violates privacy and personal autonomy rights, intermeddles in theological disputes, clashes with other laws and creates significant unintended consequences," Matt McReynolds, a staff attorney with Sacramento-based Pacific Justice Institute, said.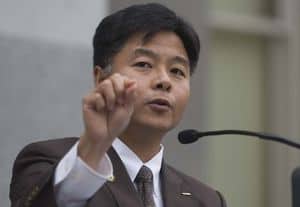 A lot of people are agog over the bill, and none moreso than the "Parents and Friends of Ex-Gays and Gays" (PFOX), who've penned an open letter to State Sen. Ted Lieu (right), the architect of SB 1172, to cease promoting his "harmful, anti-family bill." Speaking to the Christianist website OneNewsNow, PFOX's Executive Director, Regina Griggs, defended coercive reparative therapy for minors by saying:
If you look at the CDC report kids 13-24, youth who have been diagnosed by HIV increased by 44 percent … Of those people ages 13-24 that were diagnosed by the CDC, 89 percent was attributed to men having sex with men. I don't think 13-year-olds are grown-ups. I don't consider them men; they are children. Talk about endangering children. He's talking about denying them help so they become trapped in a relationship that is increasing, constantly subjecting them to a possibility of AIDS, of which there is no cure.
Ms. Griggs, it is safe to assume, does not have a background in statistics.
Incidentally, PFOX recently publicly excoriated Exodus International, once America's premier organization of de-gayers, for their softening stance on the rights of gays to life, liberty, and the pursuit of happiness. This was after Exodus updated its "Policy Statements" webpage to read, in part:
… we stand with the LGBT community both in spirit, and when necessary, legally and physically, when violence rears it's head in Uganda, Jamaica or anywhere else in the world.
PFOX characterized this assertion as "supporting sodomy rights elsewhere in the world," a development it called "troubling."