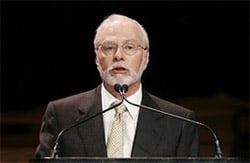 Paul Singer, the Republican hedge fund manager who uses his billions to fight for marriage equality in New York, Maine and elsewhere, quietly joined the super PAC club earlier this summer by using $1 million to start the American Unity PAC. Now that group is spreading some donations among Republicans that may be willing to back same-sex marriage.
Politico reports American Unity PAC will back three Republican candidates in the 2012 election: Reps. Mary Bono Mack of California, New York's Richard Hanna and Judy Biggert of Illinois, none of whom are vocal equality advocates.
From Politico:
A source familiar with the effort said that the group's aim is to ensure "a counterbalance on the right," adding that for "the long-term success of the [Republican] party, it must be able to reach gay and lesbian Americans and "the millions of Americans who are related to them."

The PAC initially decided to enter these three races, the source said, because the incumbents are rank-and-file Republicans with a mixture of economic and tax records the group considers strong, but who also have been solid on specific gay rights issues.
…
Hanna is a member of the LGBT Equality Caucus, was a co-sponser of the gay rights bill ENDA, and opposed all four Defense of Marriage Act amendments.

Biggert supported ENDA as well, backed hate crimes legislation and the repeal of Don't Ask, Don't Tell, and opposed three of four DOMA amendments. And Bono Mack favored the DADT repeal, supported hate crimes legislation and also opposed three of four DOMA amendments.
In addition to Singer's money, American Unity PAC has received about $1.6 million in donations, including Cliff Asness and Dan Loeb, both of whom collaborated with Singer on his work in the Empire State's gay marriage fight.