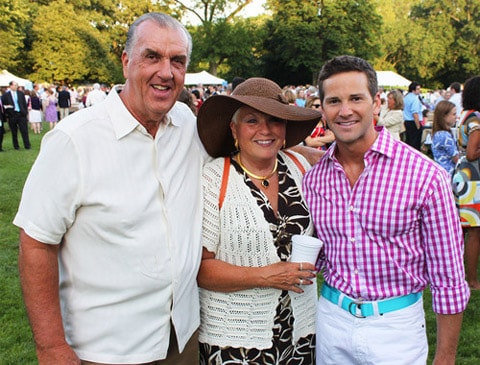 Buzzfeed's Chris Geidner caught up with Rep. Aaron Schock (R-IL, pictured above, right, in June, 2010) at "Newt U" in Tampa at the Republican National Convention on Monday, and questioned him about LGBT marriage issues.
Schock seemed uninformed about measures in the Land of Lincoln:
Asked about ongoing lawsuits brought in Illinois by the American Civil Liberties Union and Lambda Legal seeking marriage equality in his state, Schock replied he was unaware of their existence, saying, "That's all news to me."
He disagreed with Obama's order to the DOJ to stop defending Section 3 of DOMA in court:
"I think that it's important for us to follow the law of the land. And so I think if we're going to have a debate federally, like the president has started with him changing his position on gay marriage, then that's all fine and well," he said. "But, I think what's more harmful is that, no matter who the president is … I don't think you just say to your chief law enforcement officer, the attorney general, 'Hey, don't enforce the law because I don't agree with it.'"
He believes marriage should be left to the states but is not sure about how he feels on a federal marriage amendment:
When it was explained to him that a federal marriage amendment that would prohibit states from allowing same-sex couples to marry under their state's law, he then hedged, saying, "I haven't really thought too much about it."
He then asked if the amendment had been voted on in Congress in the past four years. When told that it hadn't and that he had not taken a position on it yet, he replied, laughing, "I'll have to read it."
BuzzFeed has a request in to his office get an answer on whether or not he supports the amendment.
Read Geidner's full interview here.
You may recall schock as the Congressman with the six pack.