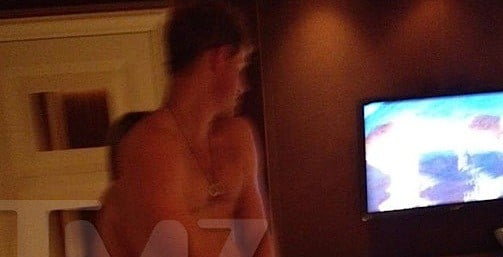 Photos of Prince Harry romping around a Vegas hotel room in his birthday suit have hit TMZ and are sure to cause ripples in the royal family.
The Guardian reports:
Royal aides suggested that Clarence House may contact the Press Complaints Commission if the pictures are used by British publications. The PCC declined to confirm whether it had been contacted by Clarence House.
Each of the major British newspapers chose not to use them in online stories by late on Wednesday, although they were published by the Ireland-based Westminster gossip blog, Guido Fawkes.
The reticence of the British media is likely to be interpreted by some in the industry as further evidence of a chilling effect caused by the Leveson inquiry into media ethics. Tabloid executives, including the Sun editor Dominic Mohan and the Mail Online publisher Martin Clarke, have complained to the inquiry that they could be forced out of business if they are unable to publish material that is put online by media organisations in other countries and widely available on the internet.
The photos were released yesterday following two days of similar photos featuring Harry at the hotel pool, racing with swimmer Ryan Lochte.
Writes the Hollywood Reporter:
A Buckingham Palace spokesman told THR that the pictures were "genuine" and that Prince Harry was "on a private holiday" and expected to return to the U.K. shortly. He also said it was "up to each publication" to decide whether to use the Prince Harry pictures. He declined to comment further.