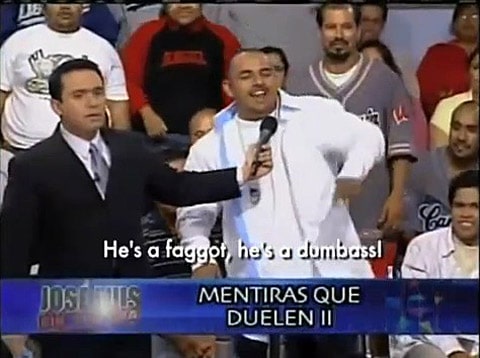 It took about a year of advocating, but GLAAD and the National Hispanic Media Coalition were finally successful in their crusade against José Luis Sin Censura, a talk show GLAAD describes as "Estrella TV's far worse Spanish-language version of Jerry Springer."
The groups this week received a letter from Liberman Broadcasting, the company responsible for producing and distributing the famously anti-gay show, saying that José Luis Sin Censura aired its last show yesterday and asking the groups to encourage advertisers who joined them to return to Liberman's airwaves.
Here's the text of the letter, signed by Liberman Broadcasting Chief Operating Officer Winter W. Horton:
This letter serves to confirm that August 8, 2012 will be the last day Liberman Broadcasting will air the television show "Jose Luis Sin Censura" on any of its stations or affiliate stations. Liberman Broadcasting is pleased to have amicably resolved this matter with the National Hispanic Media Coalition ("NHMC") and GLAAD and is glad NHMC and GLAAD will no longer discourage companies from advertising with Liberman Broadcasting.

Can you please contact those clients with whom you have previously spoken and let them know that Liberman Broadcasting is no longer airing any programming that GLAAD or NHMC finds objectionable. We are confident that we can build upon this experience and work together to create positive experiences for the LGBT, Latino and Spanish-speaking communities.
In an official press statement on the protest, which began in earnest last year, GLAAD President Herndon Graddick remarked, "Content that appeared on this show fueled violence against our community, which is growing and impacting so many families. Thanks to thousands of LGBT, Latino Americans and allies, LBI took action… The company should now join so many other Spanish-language broadcasters in presenting stories that inspire and create change, not fuel a climate of intolerance and violence."
Alex Nogales, the president and CEO of NHMC, described the news as a "ard-fought victory for tolerance, inclusion, and decency."
"It is further proof that programming that degrades or threatens the safety of entire segments of our population has no place in this country," he said.
Watch GLAAD and NMHC deliver the 3,800 supportive signatures that helped convince Liberman Broadcasting to change course, AFTER THE JUMP.