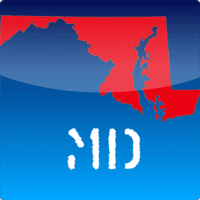 Exciting news for Marylanders for Equality: According to a poll conducted by research, a majority of citizens in the Old Line State support marriage equality. And, more tellingly, strong support has an eight point lead on strong opposition to repealing that state's same-sex marriage ban.
The stats, via Politico:
In addition to the 54% majority who would vote FOR marriage equality, we are also encouraged by the growing INTENSITY among supporters.

Strong "FOR" support is now 43%, strong "AGAINST" is 35%—an eight-point advantage for marriage equality. Previous polling, even those finding marriage equality with a lead, show a more EVEN divide between strong FOR and strong AGAINST voters—in March of this year it was 39% strongly  or, 38% strongly against.

In a separate survey question, we asked Marylanders the importance of the marriage equality referendum. It is notable that among the near-majority of Maryland voters who rate the issue as EXTREMELY important, 66% would vote FOR marriage equality and just 33% would vote AGAINST.
Voters will decide in November on a referendum that will either keep or discard an existing law allowing marriage equality. If these numbers are to be believed, that legislation will remain in place.