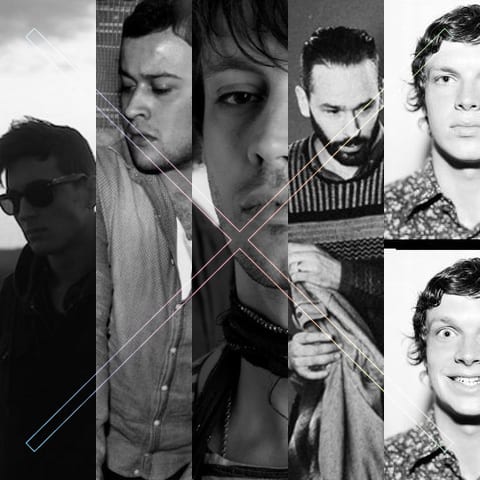 BY OCCUPY THE DISCO /JOSH APPELBAUM
The OXD Mirror is a weekly music column brought to you by the boys of OCCUPY THE DISCO (OXD), a New York City based movement created by three music lovers, Ru Bhatt, Josh Appelbaum, and Tadeu Magalhães, who want to share their love for disco, house and dance music with the world.  
Future Unlimited – 'Golden (Mighty Mouse Vocal Remix)'
Nashville-based duo Future Unlimited claim they are bonded by their love for everything 80's.  This is rather apparent in their music, which is heavy on nu-wave synths and bold choruses.  They most recently performed at SXSW and also put out their self-titled 5-track debut EP.   'Golden' is the latest single release from the EP and Mighty Mouse spices up the original track; A heavier dance beat is added in while still capturing the band's nu-wave essence.
Bronx – 'I'll Be Loving You'
If the title of this track sounds familiar, it's because it is lifted directly from the 2008 Mariah Carey single this song samples. Unlike native New Yorker Mariah, Bronx (19-year-old Francisco Dávalos) is actually from Aguascalientes, Mexico. His take on this mid-tempo track keeps the BPM low while infusing the song with a very island-inspired backing that is reminiscent of Aaliyah's 'Rock the Boat'.  This summer there has really been an influx of Balearic reinventions of 90s/00s pop diva classics – but who could be mad about that?
Luca C & Brigante feat. Robert Owens – 'Tomorrow Can Wait (Art Department Remix)'
I've been a big fan of Art Department's trippy remixes after falling in love with 2011's remix for Azari and III's 'Hungry for the Power'.  This remix of 'Tomorrow Can Wait' employs the same subtle variations and techniques used on 'Hungry for the Power' – for the better.  The track is from Ibiza duo Luca C and Brigante, who have been putting out classic house-inspired tracks since 2009. The vocals on this track are provided by Robert Owens, known for his soulful vocals on many chart-topping dance tracks.
MORE TRACKS, AFTER THE JUMP…
Jonas Rathsman- 'Since I Don't Have You'The boys of OXD have been buzzing about this track for the past week and we're excited to share it with you all.  'Since I Don't Have You' is a fierce house track that relies heavily on falsetto vocals and production reminiscent of St. Etienne.  As a member of the prolific French Express label, 32-year-old Sweden native Jonas Rathsman releases 'Since I Don't Have You' as his third solo single on the label, following the buzzworthy 'Tobago'.  Combining disco and classic house styles, this slick track is meant to get your feet moving and head bobbing.  Aside from his music and production, Rathsman is also a graphic designer and partner behind sustainable fashion line Uniforms For The Dedicated.  Impressive resume thus far! Friendly Fires – 'Hurting (Tensnake Remix)'After meeting at St. Albans School at the age of 13, Friendly Fires started as a post-hardcore band and eventually transitioned into a dance-inspired rock act.  They released their self-titled first album in 2008 after signing to XL Recordings, following up in 2011 with a sophomore effort Pala.  'Hurting' is the fourth release off of Pala, and remixes for the song were released at the end of February. House music mastermind Tensnake crafted this particular remix that was most recently featured on the Kitsune Soleil Mix. OCCUPY THE DISCO (OXD) curates and recommends music events to the gay community in NYC—in an effort to move the focus of the nightlife scene beyond the promoter and venue and to the music itself. OXD's goal is to educate, entertain, engage and empower the gay audience to reclaim their ability to question and experience the unknown. The OXD Mirror will serve to showcase tunes that are definitely off-the-beaten-path but rightfully deserve the attention of the gay ear. It's music that will make you dance, dream, and most importantly, love.This week's post was written and curated by Josh Appelbaum.For more information on OXD, check out our website and accompanying blog at www.occupythedisco.com, like us onFacebook, or follow us on Twitter: @OccupyTheDisco.