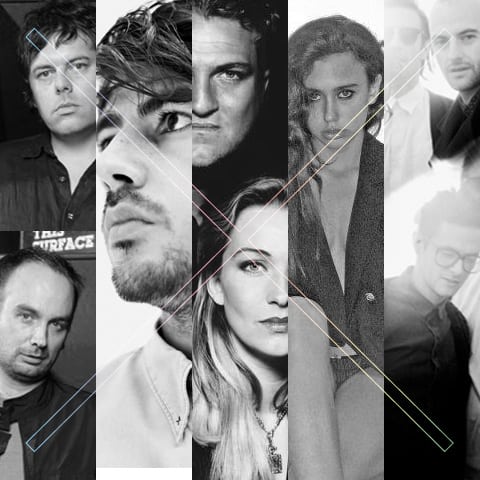 BY OCCUPY THE DISCO / JOSH APPELBAUM
The OXD Mirror is a weekly music column brought to you by the boys of OCCUPY THE DISCO (OXD), a New York City based movement created by three music lovers, Ru Bhatt, Josh Appelbaum, and Tadeu Magalhães, who want to share their love for disco, house and dance music with the world.
Cosmonauts: 'Love Me Tonight'
4-year-old nu-disco house act Cosmonauts have treated fans with 'Love Me Tonight' as a free thank you single for their fans.  With a bubbling popularity and love from contemporaries like The Magician, Maxxi Soundsystem and Tensnake, Cosmonauts members Paul and Dave are preparing for another onslaught of high-profile new sounds to unleash to the disco community.  This track features all of the right house music sensibilities I love in a song while keeping a beat suited perfectly for the dancefloor.
Plastic Plates: 'Things I Didn't Know I Loved (feat. Simon Lord)'
The upbeat, 80's synth-inspired production from Plastic Plates has drawn us in to practically every remix and track this Sydney-based producer has put out.  Plastic Plates, also known as Felix Bloxsom, is readying a 3-song EP for his label Kitsuné, which featured the track 'Toys' on the excellent Kitsuné Soleil Mix this summer.  The EP's title track, 'Things I Didn't Know I Loved', features vocals from Simon Lord (formerly of Simian). While drawing up beats that are very familiar to some other Plastic Plates' songs, this delightful track pulls in light xylophone chimes found often in the post-disco aftermath of early 80's pop music.  We're excited to see Felix's work displayed on its own and as always, will be on the edge of our seats waiting for the next epic release or remix from this talented producer.
Ace of Base: 'Cruel Summer (Claes Rosen Unofficial Remix)'
Ace of Base are best known for making huge hits in the early 90s like 'The Sign', 'All That She Wants' and 'Don't Turn Around'.  But after touring the world and selling millions of albums, they were never really able to recreate their successes in the U.S.  Though their cover of Bananarama's 'Cruel Summer' charted decently as a single, it never really moved the needle regarding their album sales. Hailing from Ace of Base's native country of Sweden, producer Claes Rosen provides a soulful disco/house mix of 'Cruel Summer' 14 years after the single's release, proving the staying power of this particlar song.
MORE TRACKS, AFTER THE JUMP…
Alison Valentine: 'Peanut Butter (Moon Boots Remix)'
Alison Valentine is a New York City native whose sounds are inspired by years spent at Swiss boarding school listening to Prince and french dance music.  I have to admit that I find Valentine almost too cute, compounded by her love for making floral arrangements with her delightful take on light disco and dance music. Having received flowers from Valentine, Moon Boots remixed her latest single to thank her, adding an east-L.A. early hip-hop beat and irresistible quality to the song.
Club Feet – 'City of Light (Softwar Remix)'
Australian band Club Feet have been compared to comtemporaries like Junior Boys and Hot Chip and we can certainly see why.  Melding a mix of being a live band and electronic producers, their latest single 'City of Lights' has been remixed by fellow Australian production duo Softwar. Remixing the likes of Azari & III and Groove Armada, as well as releasing their own EP, Softwar has been on a steady path to making a name for themselves in the dance music community with sophisticated, city-sleek remixes like this one for Club Feet.
As a bonus for you loyal readers, we have posted a 3-part 'Perfect Summer Day' Mixtape series for your labor day weekend.  Each one features many tracks that have been included on both Towleroad and on our own blog.  Grab Part I, Part II and Part III today – you can stream them or download them.
OCCUPY THE DISCO (OXD) curates and recommends music events to the gay community in NYC—in an effort to move the focus of the nightlife scene beyond the promoter and venue and to the music itself. OXD's goal is to educate, entertain, engage and empower the gay audience to reclaim their ability to question and experience the unknown. The OXD Mirror will serve to showcase tunes that are definitely off-the-beaten-path but rightfully deserve the attention of the gay ear. It's music that will make you dance, dream, and most importantly, love.
This week's post was written and curated by Josh Appelbaum.
For more information on OXD, check out our website and accompanying blog at www.occupythedisco.com, like us on Facebook, or follow us on Twitter: @OccupyTheDisco.