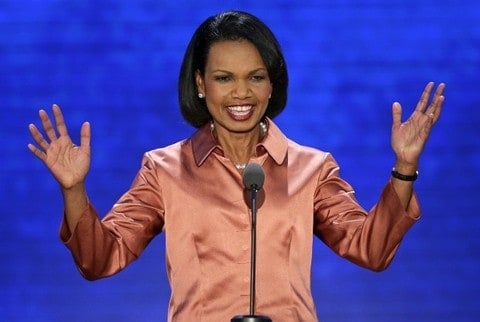 Once a presidential candidate picks his or her running mate, we, the voting public, are meant to believe there could be no other ticket. Mitt Romney and Paul Ryan, for example, are presented as a natural, inevitable match who can, they say, "restore America's promise". There were, according to this myth, no other potential veeps.
Of course that's not the case. Mitt Romney considered a long list potential running mates, a list that included Condoleezza Rice. Former Secretary of State Rice would have been a great fit: she's a seasoned diplomat with foreign policy experience, she could tap into the female voting bloc and she's well-respected and liked within her party. So, why didn't Rice get Ryan's spot? According to Radar Online, because Rice refused to back down on abortion and civil unions.
"Condi was fully vetted to become Mitt Romney's running mate and turned over financial records, including tax returns," a source told the site. "However, Mitt's advisers talked him out of it because Condi is pro-choice and she isn't willing to change her position on the controversial issue. Condi also supports same sex civil unions which again, put her at odds with Romney. Mitt had a hard time getting the ultra conservative support of the GOP and was told if he picked Condi that would immediately be lost and so he ultimately picked Congressman Paul Ryan to be his running mate."
But Rice fans should not fear, according to the source, the Stanford professor is reportedly planning a gubernatorial run in California. "She will continue to stump for [Romney] but she is very excited about the prospect of running for elected office for the first time in her life," said the source. "California still has very high unemployment and companies are leaving the Golden State because of very high taxes and regulations. Condi's position on social issues makes her a very viable candidate."
For those of you who may have missed Rice's speech at the Republican National Convention this week, I've included it AFTER THE JUMP.