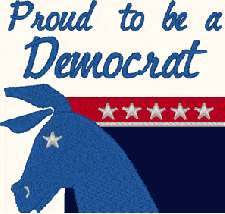 We already know that the Democratic Party will be drafting marriage equality into their official platform, but we haven't be able to see the specific language.
Until now, because BuzzFeed's Chris Geidner worked his magic and got the wording from a committee member.
Here it is:
We support the right of all families to have equal respect, responsibilities, and protections under the law. We support marriage equality and support the movement to secure equal treatment under law for same-sex couples. We also support the freedom of churches and religious entities to decide how to administer marriage as a religious sacrament without government interference.

We oppose discriminatory federal and state constitutional amendments and other attempts to deny equal protection of the laws to committed same-sex couples who seek the same respect and responsibilities as other married couples. We support the full repeal of the so-called Defense of Marriage Act and the passage of the Respect for Marriage Act.
This puts further heat on the Log Cabin Republicans to have something to show for their efforts on the GOP platform.