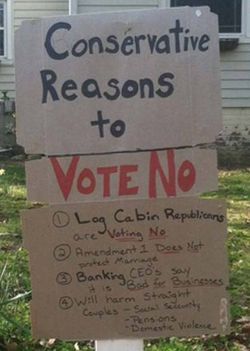 Three pro-equality activists arrested during a May sit-in at an Asheville, NC marriage license office have been found not guilty.
The Citizen-Times reports that Craig White, Laura Blackley and Cindy Jordan were arrested during a protest that followed a state-wide vote approving Amendment One, a constitutional measure prohibiting same-sex marriage, and that their allies see the judge's decision as more than just beating a trespassing charge.
"It was powerful to see a North Carolina court recognize the fundamental right of LGBT people to petition our government to change discriminatory laws that ban marriage between LGBT couples," said Campaign for Southern Equality executive director Rev. Jasmine Beach-Ferrara. "This is one more step in our effort to achieve full equality under the law."
Five other people booked after during the sit-in are set to appear in court today.