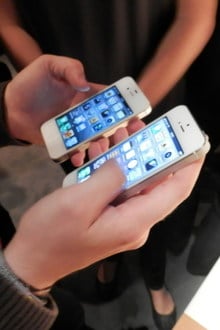 Apple yesterday unveiled its iPhone 5, the latest version of its increasingly ubiquitous mobile device.
In addition to all its suddenly old features, the new model includes updates for live-in computer aide Siri, a new operating system and a wider screen, which AP reviewer Michael Liedtke says has at least one woman screaming with glee.
One woman who also was testing out an iPhone 5 couldn't stop raving about how ideal the new design was for people with smaller hands. "All the other iPhones were made with men in mind because they could easily slip from your grasp if you didn't have big hands," she said. "Now we finally have an iPhone for women."
Liedtke also believes that Apple founder Steve Jobs would be "delighted with the iPhone 5's blend of beauty, utility and versatility."
The addition of a new, and pricey, $30 adapter cable, however, has some people seeing red over all the green they're going to have to spend. One reviewer remarked, "Apple could quite happily have dropped its margins…to ensure these crummy little interconnects weren't quite so expensive."
But some economists are celebrating the prices, for the profit Apple is likely to turn could give the GDP a nice little boost. "Calculated using the so-called retail control method, sales of iPhone 5 could boost Q4 GDP by $3.2 billion, or $12.8 billion at an annual rate. This would boost annualized GDP growth in Q4 by 0.33%-point," wrote JPMorgan Chase economist Michael Feroli.
Either way, expect to see some mammoth lines at Apple stores around the world when the phone goes on sale September 28th.