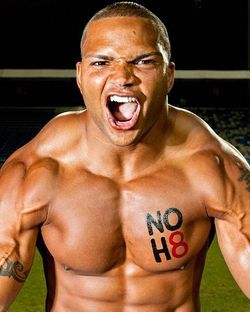 During a lunch with Politico yesterday, NFL Commissioner Roger Goodell was asked about his thoughts concerning Brendon Ayanbadejo, the Baltimore Ravens player whose support for marriage equality garnered him a hateful letter from Maryland Assembly Delegate Emmett C. Burns Jr asking him to stop endorsing such civil rights. And Goodell made clear he stands with the footballer.
"I think in this day and age, people are going to speak up about what they think is important. They speak as individuals and that's an important part of democracy," Goodell told the site.
Of course Goodell is not the only football big-wig backing Ayanbadejo. Chris Kluwe, the Minnesota Viking who has come out for same-sex marriage, tore into Burns via letter this week.
"What on earth would possess you to be so mind-boggingly stupid?" Kluwe asked the Democrat. "It baffles me that a man such as yourself, a man who relies on that same First Amendment to pursue your own religious studies without fear of persecution from the state, could somehow justify stifling another person's right to speech. To call that hypocritical would be to do a disservice to the word."
Kluwe went on: "How does gay marriage, in any way
shape or form, affect your life? If gay marriage becomes legal, are you
worried that all of a sudden you'll start thinking about penis?"
Ayanbadejo appeared on CNN yesterday morning to discuss the brouhaha, and he also sent a letter to Politico celebrating all the love and support he's received since Burns called him out, effectively bolstering Ayanbadejo's position of a voice for equality. "I was not silenced" said the player. "In fact, what happened instead was pretty amazing — thousands of people joined me and spoke out in support of marriage equality. I even received messages from Steelers fans! Instead of being silenced, my team and my league stood with me in support."