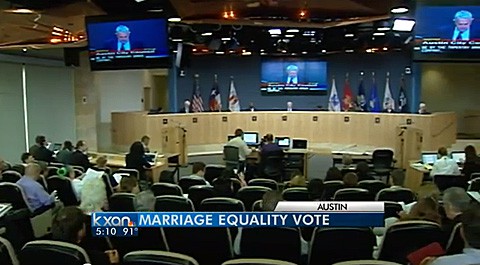 Austin yesterday became the first city in Texas to pass a resolution in support of marriage equality, KUT News reports:
The measure passed the City Council unanimously this morning.
Before the vote, local civil rights groups declared their support for the resolution, which was sponsored by Mayor Pro Tem Sheryl Cole and co-sponsored by Mayor Lee Leffingwell and Council member Laura Morrison.
At a press conference, Mayor Pro Tem Cole spoke about the evolution of rights in Texas, quoting Dr. Martin Luther King: "… Injustice anywhere is injustice everywhere. Whatever afflicts once directly also afflicts one indirectly."
Unfortunately, the attitude in Austin is an exception to the rest of the state:
The practical implications of the resolution are unlikely to be great. In 2005, Texas voters approved an amendment to the state constitution, banning same sex marriage and civil unions. Travis County was the only county in the state where a majority did not support the amendment.
Watch KXAN's report on the vote, AFTER THE JUMP…