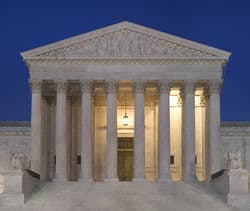 With the Supreme Court ready to announce whether it will hear a case on California's Proposition 8, a ballot measure that revoked marriage equality, as well as other marriage-related lawsuits,  Brian Brown, president of the anti-gay National Organization for Marriage, told radio host Michelangelo Signorile that he thinks SCOTUS will hear the case and rule in his group's favor.
"I'm confident — I'm very confident — that they will take the [Prop 8] case… I don't think the court is going to find some hidden right to same-sex marriage deeply embedded in our Constitution. So, I think we're going to win."
He also said he anticipates a win with regard to a case about the third section of the Defense of Marriage Act, a section barring federal recognition of same-sex marriages. "The DOMA cases too, I think we'll win," he said. "This needs to be resolved at the federal level."
Brown's confidence doesn't end there: he thinks equality will be defeated in the four states voting on it this November: Maryland, Maine, Minnesota and Washington State. Finally, Brown told Signorile he thinks that inclusion of marriage equality in the Democratic Party's official platform will become "an absolute disaster for the future of the party," a statement that ignores the increase of equality support that has steadily spread from coast-to-coast.
Just because you say something will happen doesn't mean it will, Mr. Brown, especially when the facts of reality are against you.